Here's what I got at SuperFresh last night: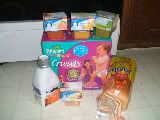 And, I paid a whopping $2.05 out of pocket (which I actually paid with a gift card), after coupons & Bonus savings card!!!!
I used: Free Pampers coupon (from Pampers rewards program), 55c Stroeman bread coupon-doubled to $1.10, 75c/4 Gerber baby food SF store coupon/catalina, $5 Similac "check" What's even better is I hit the $200 mark for the Baby Club reward, so I also got a $20 coupon for my next purchase. Now I'm just hoping there's a triples promo before it expires.
I went in there again today to fill a prescription, and picked up a copy of the Easy Solutions magazine & their sales flyer. You can find a list of the coupons in the ES book
here
. Don't forget that you can stack a manufacturer coupon with these coupons for extra savings. Notables in this week's sales flyer (for me) include:
Kellogs cereals
(Corn Pops, Foot Loops, Apple Jacks) for $1.49 from Oct 17-23 only! There are several printable coupons for Kellogs cereals to use, however, SuperFresh policy is to NOT accept printables. So, my suggestion is to take the SF sales flyer to WalMart (or store of your choice) and have them price match, so you can use the IPs. Rumor has it that
My Points
also has these coupons available to print as well. If you're not already a member, please leave a comment with your email address & I am happy to send you an invite.
Progresso classic soups
are 10/$10 (with card, 18-19oz). There were coupons in last week inserts that are $0.50/2, which would be doubled to $1, so it would be a BOGO situation.
FREE Crocs
when you buy $40 worth of P&G products on 1 receipt. Sounds a little daunting at first, but if you buy a box of Pampers, you're over half way there. Use the P&G insert coupons that come out monthly to help you find items you can purchase using coupons for extra savings.